St. Helier Anzac Day Commemoration Service
Wednesday, April 25, 2018
I had an early start today with a dawn (5.30am) Anzac Day commemoration service at the war memorial in the Parade to honour citizens from Australia and Zealand. Followed by bacon rolls and Anzac biscuits in the Town Hall.
The 25th of April was officially named Anzac Day in 1916.
'ANZAC' stands for Australian and New Zealand Army Corps. Anzac Day is a national day of remembrance in Australia and New Zealand that broadly commemorates all Australians and New Zealanders "who served and died in wars, conflicts, and peacekeeping operations" and "the contribution and suffering of all those who have served".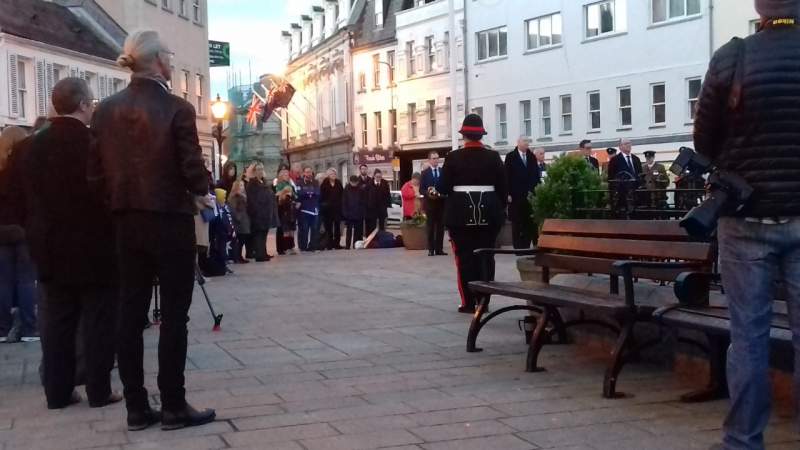 The Gallipoli campaign was intended to force Germany's ally, Turkey, out of the war.
The campaign began as a naval campaign in February-March 1915, with British battleships sent to open a sea route to Constantinople (now Istanbul) that would enable Britain and her allies to establish a southern front against their enemies during the First World War. This failed when the warships were unable to force a way through the straits known as the Dardanelles, and continued with a major land invasion of the Gallipoli Peninsula on April 25, involving British (including some from Jersey) and French troops as well as divisions of the Australian and New Zealand Army Corps (ANZAC)
The Russians who were fighting on Germany's eastern front, wanted the British and French to tackle the Turks to reduce pressure on Russia.
The first Allied landings took a dreadful baptism of fire at Anzac Cove on the Gallipoli peninsula in Turkey, 747 Australians died on the first day. Of the one million men involved in the Gallipoli campaign between one third and one half became casualties. Of the 44,070 Allied soldiers killed 8,709 were Australians. About 86,000 Turks were killed.
Anzac biscuits were sent by wives and women's groups to soldiers abroad because the ingredients do not spoil easily and the biscuits kept well during naval transportation.
The ingredients they used were rolled oats, sugar, plain flour (no eggs), coconut, butter, golden syrup or treacle, bi-carbonate of soda and boiling water. All these items did not readily spoil. At first the biscuits were called Soldiers' Biscuits, but after the landing on Gallipoli, they were renamed ANZAC Biscuits.